Holiday planing
With four decades of local experience, we are best at hand-making tours!
Within destinations, we list all and every excursions available in Sri Lanka to you to reserve in three clicks!
Itinerary page includes a refreshing bunch of model tours of inland, freshwater, seawater and flying.  A dozen of transit tours, city tours and volunteering programs are also available in main itinerary page.
Our passion in archaeology, history, nature and adventure goes in hand in hand with holiday making.
Since 1979, a passionate holidaymaker!
Vehicle hire
We hire vehicles with drivers and some vehicles without driver.
We can pick you up from both BI Airport and from Mattala Airport. One hour notice and your reassurance is needed. We will be there for you!
With prior request, self-driven vehicles are also arranged! Check out prices here.
Our office is located just about 8 minutes drive away from the BI Airport on Minuwangoda Rd. Visit us for free tour consultations and free cuppa!
For group tour operators, we have an a fleet of buses ranging from 22 passengers to 44 passengers. Vehicles will be replaced with no fee and no time when needed.
Pay attention to relevant Terms and Conditions.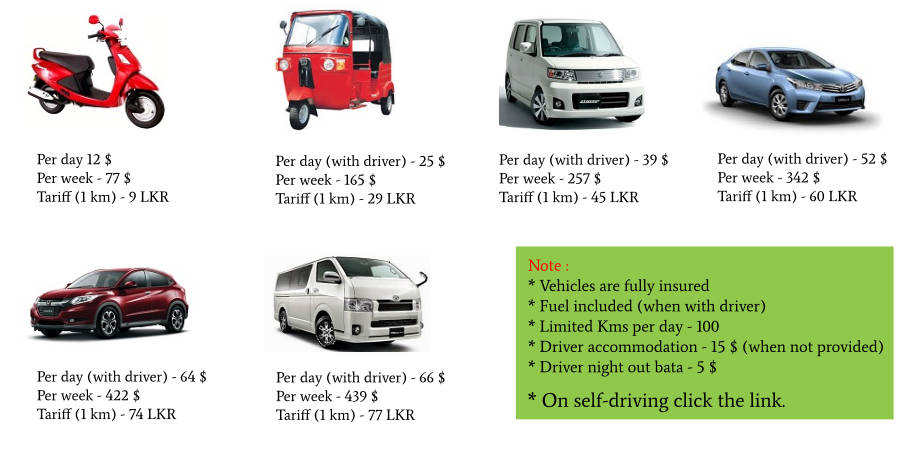 Room reservations
We arrange your rooms for a competitive price! Above all your money is spent in Sri Lanka when you reserve your room from us!
Give us a rough idea or be specific about your requirements, we will have arranged all of your accommodations prior to your arrival. That way you could truly enjoying the drive!
Unlike most of online search engines (Booking.com or Agoda) our profit is spent within this beautiful developing island!
Choose the ethical way of sleeping while you travel.
So we say - 'with us you could sleep better too'!