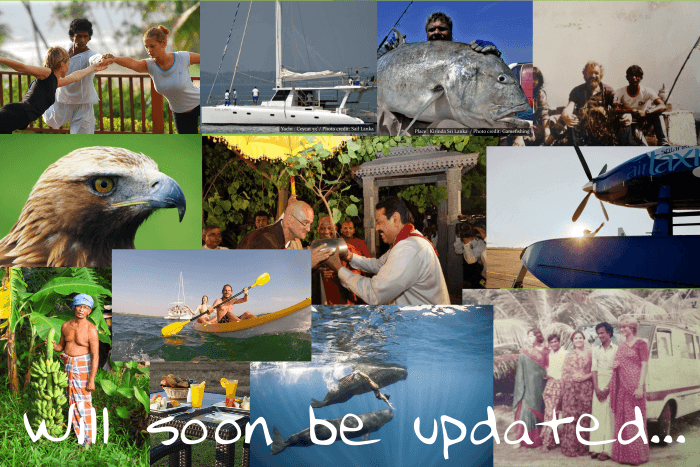 Intro
We Sri Lankan believe, every boulders and waterfalls from Nuwara Eliya to Ella have a hidden stories to tell about Mighty King, King Ravana.
But Nicolette Sanfilippo writes following about the experience on Tripadvisor.
"This place was advertised on a local tourism brochure as "Blue Water Pond," with beautiful photos of clear, bright blue water in a cave and a girl swimming in the water, flipping her hair like a mermaid. A better depiction of this hell hole would've been a photo of a million flies flying into a persons nose, eyes, ears, and mouth while they're covered in mud and bat poop, accompanied with a photo of the murkiest vomit and snot-infused pond ever to taint our otherwise beautiful earth.
Unfortunately, we were adventurous and gullible enough to fall for the brochure's marketing tactics, and we went to this decrepit, godforsaken place. After walking through a wilderness trail for about 15 min, we arrived at the entrance to Satan's playground aka Nil Diya Pokuna. It was a deep, small hole with a muddy rope leading into a black vortex of despair that you couldn't see the end of with your headlamp. We lowered ourselves in with the rope and arrived at the first landing into the cave. Our guide began lowering himself to the next landing, using a moldy ladder with fungus that was bound to consume the wood at any moment and lead its user to a muddy, perhaps lethal fall. As I peered down to follow him, I saw hundreds, thousands, millions, perhaps billions of tiny flies occupying every square inch of air space through the rest of the cave. They were, most certainly and undoubtedly, the spawn of Satan himself. My instinct was like "NOT TODAY, SATAN," but I didn't want to be a bad sport since we had already come this far so I decided to bite the bullet and climb down to the next landing. I should've listened to my instinct. The next 40 minutes of my life were likely the most tormented minutes of my human existence. There were no more ropes, ladders, or light. We continued to climb, squeeze, and jump through dangerous holes, crevices, and jagged boulders that were all covered in slippery mud and bat poop all while being attacked by tiny flies that attempted, and succeeded, to enter every available opening in our face. The bats were screeching in excitement above us, probably rubbing their greedy hands together in drooling expectation of the three warm-blooded mammals that would comprise their next meal if Satan were so kind enough as to have one rock collapse and block our one and only exit point from the cave of hell. Spiders the size of a human hand were equally as excited, staring at us hungrily because the gigantic roaches and crickets that also lived here were becoming too small of meals for their ever-growing eight legs. They leered ominously from every rock that I almost put my hand on for support, after which I would gasp with shock, fear, and relief; for each time I knew I had escaped a poisonous death by fangs of Satan's favorite insect. I wanted to leave many times, I didn't give a damn about this stupid pond from the moment I saw the flies (it was like a premonition, I knew the worst was yet to come), but my friend kept saying "we must be close now" and the guide spoke no English, so every time I asked how much longer he just pointed in the direction we were walking. Satan's helper he was; the flies didn't even seem to bother him while I gagged and blew fly-infused boogers out of my nose behind him the entire trek.
When we finally arrived at the pond, I laughed. We ventured through hell to find Satan's bathtub, floating with Satan's grime. The water was vaguely reminiscent of the color blue, if blue lost all of its vivacity and beauty, and were instead replaced with a clouded sea of lost and hopeless souls, sealed in their watery grave by an opaque grey film. Surely nobody but the devil himself would consider entering this liquid filth.
As we made our way out of the hell hole, I prayed for our safety and the stability of the rocks so that we wouldn't be caved in and I might breathe fresh air once again. But I didn't dare speak these prayers aloud, for fear of giving Satan any ideas. We finally made it out and I vowed to never enter another evil cave again in my life, and to share my experience so as to save other adventurous, daring, and naive tourists from the clutches of Satan."
---
For us, this feedback crystallise few grave issues within Sri Lankan tourism industry and offers insight into the difference between making an informed decision and ill-informed decision by a tourist.
---
On Google Map, you could clearly see the route to destination, local excursions and tourist interests. To have a clear view click "

 " and then un-click " 

 " irrelevant layers. We constantly update our site with all those interesting facts.
General terms and conditions
Reservations can be done : Only booking online or dropping us an email.
Price : The price may slightly go up or down at the time of booking.
Payment : Full payment is settled prior to starting the tour/excursion.
Days of the tour or the hours of excursion : The tour or the excursion is completed within mentioned time.
When exceed the mentioned time, per hour vehicle detention fee : 3 USD - Tuk Tuk / 5 USD Standard car & van
Weather : If weather conditions are unfavourable activities will be adjusted accordingly.
Today's Marine Forecast : Sri Lanka Department of Meteorology / Buoyweather
Transportation to a destination : Click here to reserve with this excursion.
Refund : Refund will be determined after reducing third party's and our costs.
About this trek to the cave
Best season : All year around
Available : Daily
Arranging time needed : 1 day
Hottest month : 
Best time of the day to start : 8.30 AM - can start earlier
Starting point : Ella train station
Total KMs trekked : 13
Whole excursion hrs : 6
Restrictions : Do not touch corals please. Be a responsible and ethical snorkeler and diver. No flash photography of ancient paintings. Cover your knees and shoulders before enter any temple. Do not leave plastics behind / Please do not feed wild animals.
Basic price includes : Pro local trekker /  Leech replant / & Gov tax.
Not included : Lunch, snacks & water - We stop at a very local restaurant halfway through the trek
Feedback us : Our drivers and service providers are advised not to promote any other activities or nudge you for shopping. Please leave your feedback on Google.
Optional : A well-spoken local animal expert / historian could be arranged with an additional fee.
You may bring : Trekking shoes / Hat and sun glass / Sun cream / Camera
---
We love holiday planning!