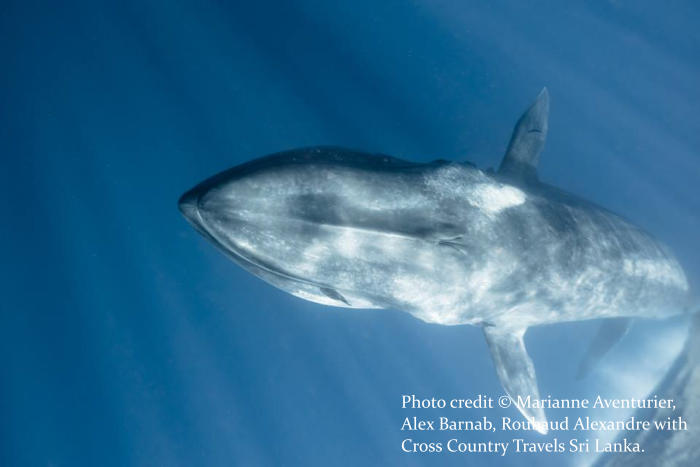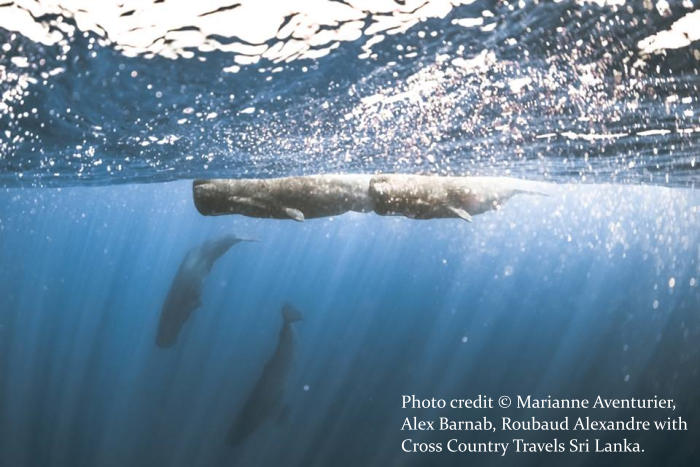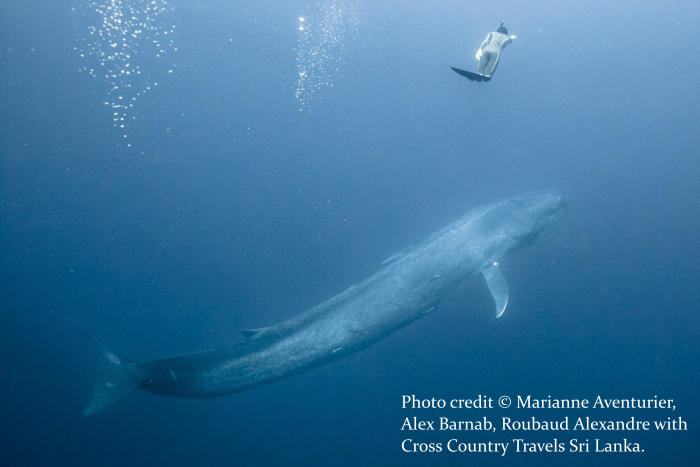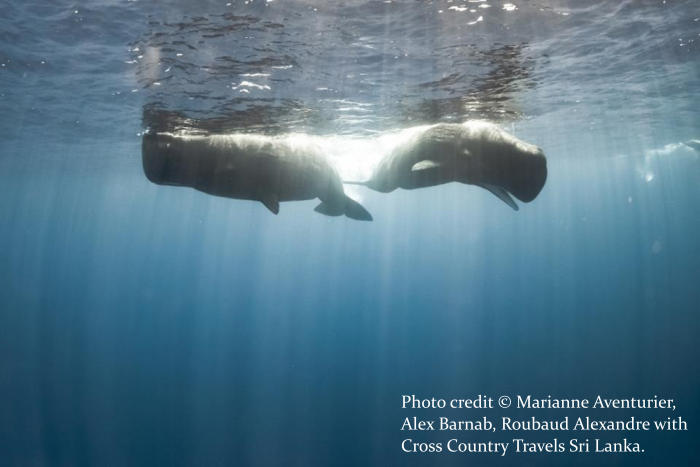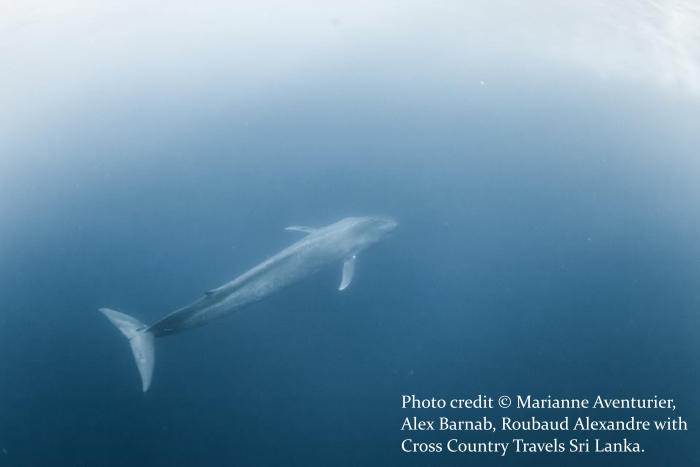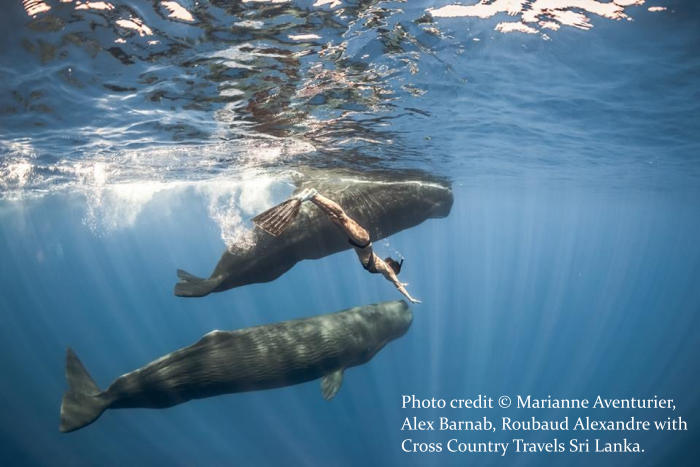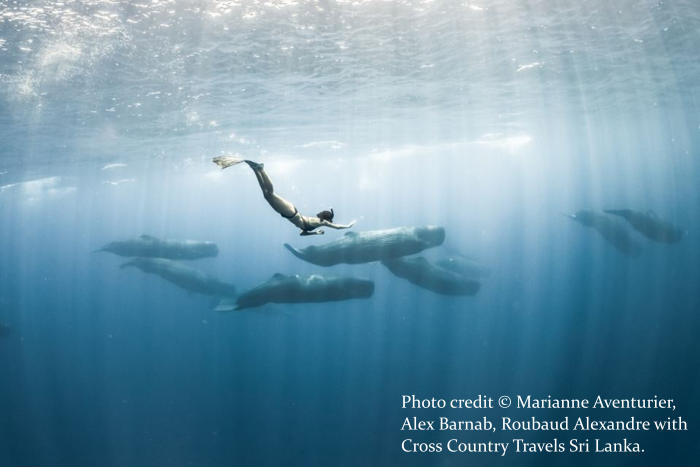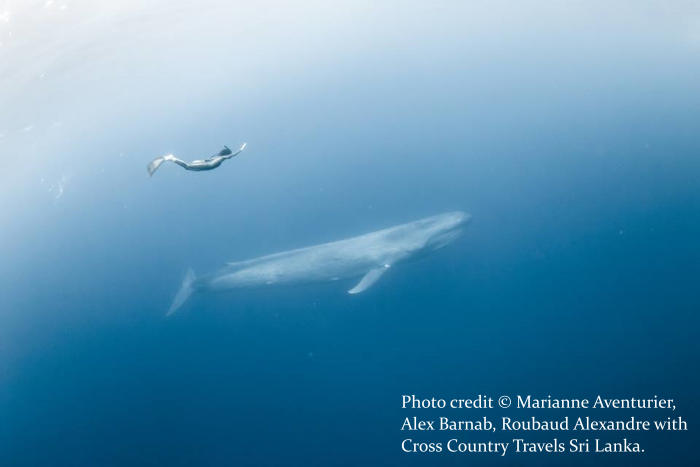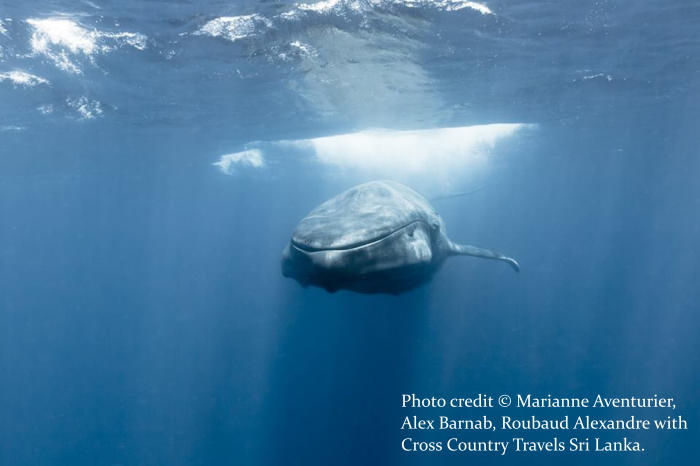 How to Observe Sea Mammals Underwater Responsibly in Sri Lanka
Intro
We organise your personal observation or photographic experience of sea mammals in Sri Lankan water. We try to give a lot of attention to mammal's experiences too at the encounter. We want all to have pleasant encounter.
Coming Dates.
Mirissa (8-12 Mar 2021) - Confirmation needed before 15 Dec 2020.
Kalpitiya (18-22 Mar 2021) - Confirmation needed before 15 Dec 2020.
Trinco (1-5 Apr 2021) - Confirmation needed before 15 Dec 2020.
In Mirissa, the best underwater visibility and sea conditions to photograph whales lasts from February to mid April.
Generally speaking, calmer beach season in Mirissa starts from October. Blues, Sperms, Pilot Whales, Dolphins and Whale Sharks are always there in Mirissa. Specially there are there, it seems, in off season, April to October. This is the time to take a local flight and observe mammals from the air.
Growing number of whale watching boats (40-70 or so) in Mirissa, do not like underwater photographers/snorkelers and the boat owners who accommodate these snorkelers. And there is a superstitious belief spread by these operators that underwater observers of mammals bring bad luck to whole industry, make then distance from shore - See our take on this issue on this video. These ground realities are somewhat reflected in the attitude of Wildlife officers.
And it is most likely a Wildlife officer will be on-board with you when you sail from Mirissa harbor with a permit.
In Trinco, the best underwater visibility and sea conditions to photograph whales lasts from February to September. However, mammals are usually seen from February to mid April and again from August to September. Trinco records slightly lesser encounters of whales than in Mirissa.
Generally speaking, in February to mid April, Trinco plays host to a wide variety of whale and dolphin species. This is the best time of the year to see Beaked Whales and the largest aggregations of Bryde's Whales. Blues and Sperms are spotted in their largest numbers between October and April. Orcas are most frequently spotted in September. Pilot Whales and False Killer Whales are spotted between March and June. Spinner dolphins are found almost daily in and around Koddiyar Bay during the morning hours.
Most common boats used in Trinco are 18-21 fts long dinghies with kerosene engines of 20-40 hp. Some of them have sunshades. We also have access to a fleet of ultra modern catamarans with cabins for overnight stays. We also have one nicely refurbished lobster hull boat and speedboat in Trinco. Check it out the options here.
In Trinco, the Wildlife Department and Coast Guards are gearing up to monitor permits.
In Kalpitiya, the best underwater visibility and sea conditions to photograph whales lasts from February to mid April. Kalpitiya is another unique place in Sri Lanka. Best Sperm whales sightings recorded in Sri Lanka are so far recorded in Kalpitiya. There have been a sightings of Humpback and Killer Whales too in Kalpitiya.
Kalpitiya is unique because its close proximity to larger Indian peninsular. Phytoplankton and zooplankton accumulated in Gulf of Manna as a result of Southwest monsoon rain and wind gushing through Kerala in India makes this area very rich with all sort of marine mammals, including Du gongs. Sri Lanka's largest lively coral reef is also located just off the coast of Kalpitiya.
We could arrange a speed boat or catamaran in Kalpitiya in the season if you are interested in hiring the boat for more than 7 days. Check it out here.
Few secret places - If you are a calculated risk taker (then we will absolutely love to serve you), with some spare cash, we have few great places lined up to explore with no bureaucratic red-tapes and human traces around!
Terms and conditions
Booking : Book online, call us or drop us an email.
Price : The price may slightly go up or down at the time of booking.
Payment : Full payment is settled prior starting the tour/excursion.
Days of the tour or the hours of excursion : The tour or the excursion is completed within mentioned time.
Per hour vehicle detention fee : 3 USD - Tuk Tuk / 5 USD Standard car & van
Weather : If weather conditions are unfavourable activities will be adjusted accordingly.
Today's Marine Forecast : Sri Lanka Department of Meteorology / Buoyweather
Transportation to a destination : Click Here to reserve with an excursion.
Refund : Refund will be determined after reducing third party's and our costs.
Species information
Pygmy Blue whale
Omura's whale
About this freedive
Best season : Second, Third & Forth weeks of December & from mid February to mid April
Available : Daily
Best time to start : Early mornings (we change the time depending on local eventualities)
Arranging time needed : Four weeks (to acquire permits)
Starting point : Kalpitiya, Mirissa and Trinco
Activity starting time : Usually around 6 AM / In Mirissa after 11.30 AM
Whole touring hrs : 3-6 hrs (depends)
Number of snorkelers : If you really care about the animal, stick to 3 snorkelers the most.
Be mindful : A wildlife officer will be onboard the boat. Copy of your videos/photos needed to submit to Wildlife Department - watermarks can be used on them.
Restrictions : One of our staff members will impose strict monitoring of boat maneuvers and underwater photographers. Firstly animal is observed from the distance to get to know the animal's behavior and response. Only if the animal is calm we let you in water. Sudden boat maneuvers and accelerations are prohibited. No animal touching. Keep your plastics within the boat. Copy of your production must be submitted to us before you depart.
Probability of taking good photographs : 20% per day / 100% - if tried 5 days.
A good snorkeler : Uses fins and snorkels in submissive colors / do not make noises jumping to water and snorkeling.
Option 1
Fixed-date & sharing
Dinghy boat - 200 USD per person in Trinco and Kalpitiya
Speed boat - 300 USD per person in Mirissa
Price includes : Boat / Diving permit from WLD / Our administrative fee / Professional skipper / Seeker / Fresh fruits / Bottled water (2 liters each) / All Gov taxes.
Not included : Fins and mask 8 USD per pare (recommend bringing your personal gear with submissive colors) / 18 USD per person per day if the boat is taken from Mirissa Harbour.
Option 2
Charting your own boat
Varying in price, check here.
Price includes : Boat / Professional skipper / Seeker / Fresh fruits / Bottled water (2 liters each) / All Gov taxes.
Not included : Fins and mask 8 USD per pare (recommend bringing your personal gear with submissive colors)/ Underwater permit fee from Wildlife Department of 8 USD per day per diver / 18 USD per person per day - Harbour fee, payable only in Mirissa / One time payment of our administrative fee to acquire permits (150 USD per first permit and 50 USD for each additional permit).
Option 3
Deciding where to go once you are arrived in the Island.
It is nearly impossible to predict if the mammals be there in a certain place in a certain day. So, why would not you come to Sri Lanka first - with all the preparation done well before that - and then ask us to take to where the mammals are? Email us to arrange your trip.
Option 4
Charter an ultra modern yacht.
We have few catamarans with one to four cabins, in which each cabin can accommodate two guests. Well equipped on-board kitchen and chef and staff will look after you fine! Standby safety craft will offer you the freedom. Of cause, anchoring near the shore for land accommodation is also possible. Email us to arrange your trip.
Sri Lankan sea water temperature : Above 20°C/68°F all year around. Usually around 27-28°C. Check today's temperature.
Optional : Snorkelling guide 80 USD per trip / Pro underwater photographer 200 USD per day including permit / Rent a pro underwater camera, here.
Feedback us : Our drivers and service providers are advised not to promote any other activities outside of our acknowledgment, established personal contacts or nudge you for shopping. Please leave your feedback about our services on our Google feedback page.
You may bring : Motion sickness pills / Hat and sun glass / Sun cream / Camera
---
We love holiday planning!
History
In February 2016 we organised a underwater photo expedition to take photos of Blue whales. And the result was groundbreaking! See the related publications of our photos on Fisheye; Sink and Swim; Redbull, Daily Mail UK and Dive Photo Guide.
A French animal right activist, Marianne Aventurier, and founding members of Fisheye Community and great photographers, Alex Barnab Voyer and Roubaud Alexandre, were our first group. We dragged them into Mirissa and then they dragged us into this, in a nice way! We were all legal!
Doing that, we gathered rare insight into the responsibility we shall bare towards these animals and risks involved in this activity.
However, soon after few other expeditions followed, the Wildlife Department of Sri Lanka intertwined in this particular activity, and have made it a very strict activity. We welcome this strict approach of WLD for the sake of mammals. The scientific data collection mission started by the WLD to find out the effect of humans on Blues in Sri Lankan water had abruptly stopped in 2016.
---
Year 2019 - From 1st of February, Department of Wildlife and Mirissa Harbour together imposed an additional levy of 18 USD per whales-watcher or underwater photographer per day. This is additional to the permit fee paid to Wildlife Department. And fee is collected by the boat and paid to the Wildlife Office at sailing points.
We hope now at least some clean sanitary facilities will be managed for visitors by Tourism Development Authority and Wildlife Department at these sailing points with this new income.
---
Year 2018 - After many refusals to customers, and, however realising some opportunistic hoteliers and skippers everywhere basically take guest to snorkel without permits anyway, we decided to seek legal assistance against the WLD. As a result the WLD issued our first permit in March for 2018 with conditions!
On that permit, the Director General limited the distance of snorkeler from the mammal to 100 meters. However, this limitation tends to not be practical since the snorkeler's and mammal's maneuverings are unrestrained in water. We yet to find a wildlife officer onboard who tries to impose this condition. And it our understanding that WLD is still in murky water since it is impossible to take a picture at 100 meters away from a mammal in water and law allowing to take photographs of mammals.
---
Year 2017 - We acquired the permits for BBC filming crew when the WLD denied it fiercely.
---
Present Law - Marine Mammal Observation Regulations, No. 1 of 2012. Read here
Proposal made in 2016 by WLD -  Read here
---
Who can issue a permit? 
Only the Director General of Sri Lankan Wildlife Department in Colombo can issue a permit on individual basis through a Sri Lankan registered travel agent. To obtain a permit it takes about 2-3 weeks. The official fee is 8 USD per person per snorkelling day. It takes few full days of our work to visit them to obtain a permit.
This is how a personal permit look like, here.
---
Cost breakdown
Permit fee is 8 USD per day per person + Our administrative cost (one time payment) + Boat price (multiply by how many days)
Boat prices vary according to the place. Following prices intend to offer you some rough guide;
A standard dinghy boat for 5 hours with 25-40 hp engine with a sunshade - 350 - 450 USD (personal sail with maximum 4 snorkelers).
A Rib boat for 3-5 hours with 30-90 hp engine with a sunshade - 450 - 600 USD (personal sail with maximum 4 snorkelers).
A speed boat  for 3-5 hours with 150-300 hp engine with a sunshade - 500 - 900 USD (personal sail with maximum 4 snorkelers).
---
Conclusion
It is illegal to snorkel or take underwater photographs with marine mammals in Sri Lankan water without a personal permit from Wildlife Department of Sri Lanka.
But most of the time snorkelers do so without knowing the real information about this activity or they are misguided or misinformed. However, if you happen to be snorkeling without a permit in Sri Lankan water with whatever the reason you may have, we suggest, you may keep yourself away from the Sri Lankan Wildlife officers, Navy and Coastguards.
Enjoy you lifetime experience responsibly. Respect the space of fish!
How to Observe Sea Mammals
Blue Whales Lunge For Dinner